Helping raise $1 Million to support archaeological research in Greece
December 19, 2020
In July 2018, we traveled to Greece to film a series of videos for The Canadian Institute in Greece—or CIG for short—a not-for-profit organization that's responsible for promoting Canadian research and education in fields relating to Greece's heritage. We were beyond excited to explore this new place and culture and help tell CIG's story.
What is CIG? Think of CIG as the clubhouse for Canadian students, researchers, and educators in Greek studies of all kinds.
CIG, which was founded in 1974, is the whole reason Canadians can apply for archaeological fieldwork permits in Greece. Before CIG, Canadians could only do archaeological excavations through other countries' institutes. With only so many fieldwork permits allowed per year, it was naturally harder for Canadian-led excavations to take place before CIG was founded.
They support students through fellowships for graduate and post-doctoral research in Greece, and internships for undergraduate and graduate students to experience academic life in Athens. And host seminars, lectures, conferences, and Canadian cultural activities in Greece.
As a non-profit, all of CIG's activities are supported by academic and private donors. In 1981, CIG began receiving federal funding from the government, but in 1994 that funding stopped. After the federal funding ended, CIG's sister Mediterranean research facilities in Italy and Egypt closed. But thanks to generous benefactors CIG was able to continue to operate. And it's the generous donations from private and academic donors that continue to support CIG today.
In 2017, CIG purchased its own building in the heart of Athens and launched the $1 Million Campaign to support purchase and renovation. This is where we come in to help – to create video content to support the $1 Million Campaign.
Our Video Approach: Months before filming, we talked to key stakeholders about CIG's needs for this project and developed video concepts around those needs. The primary objective of the videos would be a call-to-action to donate to the $1 Million Campaign. We felt this would come to life best through telling the story of CIG, why its so important, and the projects it supports. This idea centred around three main videos to produce: the story CIG's origin, the story of one of the key archeological projects they support, and the story of $1 Million Campaign.
Through our discussions, we learned that CIG operated a 5-bedroom short-term accommodation guest apartment to provide inexpensive lodging for students and researchers spending time in Athens. So we created a fourth video to tour that space to promote bookings for the CIG Accommodation.
Day 1 of Filming: We arrived in Athens a day prior to filming and stayed in the CIG Accommodation. The next morning, we filmed an interview with Dr. Jonathan Tomlinson, CIG's Assistant Director, and filmed the current space—the library and event space, a small kitchen, two offices, and small living space for a visiting fellow or intern working in Athens at CIG.
In the afternoon, we headed over to film the new building—an enormous 2-storey building with a roof top terrace is currently awaiting renovations. Jonathan gave us a tour through the massive empty building and told us about all of the spaces that were to come. Looking around, we couldn't help but to see the potential. CIG's number one priority was to start these renovations as soon as possible and get the new space up and running.
Day 2 of Filming: On our second day of filming, we travelled two hours north of Athens to the ancient town of Eleon, one of the archaeological excavation sites that CIG supports. The site shows evidence of human life back as far as 500 BC and from three periods of Greek history: the Mycenaean Age, the Archaic-Classical periods, and Medieval times.
We filmed near the end of the excavation season on a day where the local community was invited to visit the site and learn more about what had been discovered there. People in the community often also chip in to help the excavation, from moving large rocks to making homemade lunches. Learning how the community and the excavation team worked together was truly a highlight of this amazing adventure that we were lucky enough to embark on.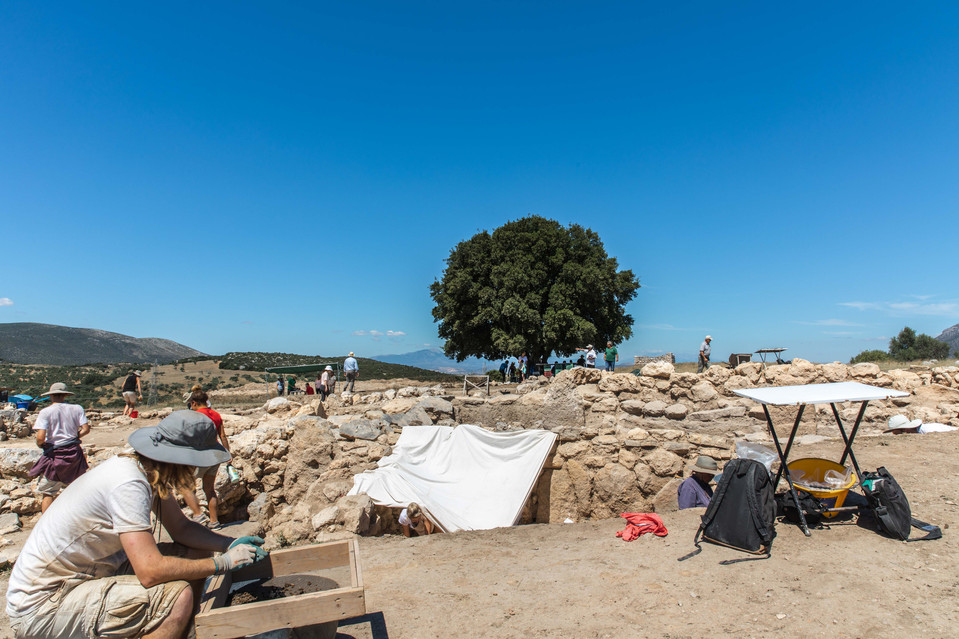 After Video Launch: The year following the video launch CIG reported a 330% increase in donations. And two years after the launch, CIG announced that the building renovations are near complete and they have now moved into the new building.
It was an honour for us to help CIG bring their story to life. CIG was already supported by a strong donor community long before creating video content, but the videos supported CIG's goals by sharing their story and connecting them with their supporters. And through the support of their donors, their dream was realized.
About Grange Productions: We're Jared and Dani — a husband and wife videography and photography team. We work closely with our clients to create content that aligns to their brand and project goals. Our mission is to tell your unique story. We take great pride in our work and our craft, and always strive to deliver the best product to our clients. Let's create something amazing together.